VW Campervan Hire
Standard Van
The standard VW campervan for hire from Bonfire Vans, sleeps two in a comfortable fold out double bed.
It is able to transport 6 passengers so it gives great versatility for a European road trip.
Our modern VW T6 camper will be as much of a joy to drive as it is to sleep in.
It's an economic and versatile vehicle that can cover long distances with ease, but you'll feel confident that moving on is simple.
We have found the size of it makes it easy to park up in busy car parks and isn't restricted by it's height.
The campervan blends perfectly into any environment - that's what these classic campervans were made for.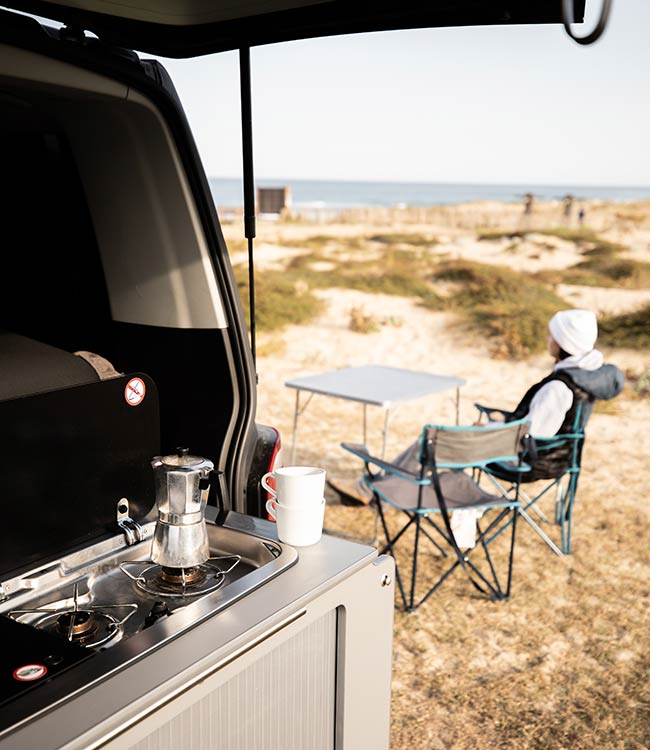 About the VW Campervan for Hire
Our campervans come with a unique, rear kitchen pod so you can enjoy cooking al fresco!
Lift open the tailgate and slide your kitchen out, mostly avoiding smoke and cooking smells inside the camper.
In not-so-pleasant conditions the tailgate door can be used as a shelter.
The kitchen pod has a double burner, a sink with running water and an outside (cold) shower - useful to wash down surfboards, bikes, vegetables and children!!
Equipped with a clip-on table for extra prepping space or use it as your outdoor dining table. The VW campervan hire includes all cooking utensils needed to get the most out of camp cooking.
Inside the campervan is an electric fridge to keep perishables or alcohol cold.
Hit the arrow on the diagrams to see the interior of the VW campervan.
The campervan can be set-up for day or night time, read on.
Day Time Set-up for Travelling
Whilst travelling, the Bonfire Vans' VW campervan seats up to six passengers - three in the front cabin and three at the rear, all with safety belts. This gives great road trip flexibility.
Once you've arrived at your destination there is plenty of room in the van for relaxing or entertainment. The rear seat can be used as a couch, and a laptop can be set on the table/seat.
Enjoy a meal, a drink or a game inside the van, by sliding in the camping table. Four people can be seated around it, using the table/seat and the rear seats. (Remember we supply camping chairs so you can relax outside though).
Night Time Set-up for Sleeping
To prepare the campervan for night time, just fold the rear seats down, then unfold the comfortable, full width double bed over the top. Position the blackout blinds and you are in for a restful night. The bench behind the driver's seat is long enough and wide enough for a small child to sleep. A battery powered lantern is provided.
About the Vans
The latest T6 Caravelle.
2.0L TDI Blue Motion 150 PSI.
Drives 6.
Driver alert system.
Cruise control.
Air-conditioning.
Bluetooth technology & USB connection.
Black out blinds.
Leisure battery.
What's Included
Fold away double bed 140 × 190.
Super efficient electric cool box 14 litres.
Kitchen sink and running water.
Double burner gas hob.
Electric outside shower (cold).
30 litre fresh water tank.
4 × camping chairs and a table.
Pots and pans.
Cutlery, plates, cups and glasses.
Coffee maker.
Bottom bed sheets.
Extension cable and camping plug.
Cleaning kit.
Optional Extras
Sleeping bags and pillows.
European GPS.
Baby seat.
Bike rack.
Roof bars.
Roof box.
On board Wi-Fi.
Awning.
12V to 220V converter.
Airport transfer.
End of stay clean.