NEW: Flexible Cancellation Policy for 2021
Cancel your holiday for any reason more than 15 days prior to your pick up and receive 100% of your money back - Cancel less than 15 days but more than 48 hours prior to collection. Choose either a 50% refund or 100% credit note of payment at that point.
Let's go get lost!
Let's go get lost!
Adventure awaits.
How We Roll ...
VW Campervan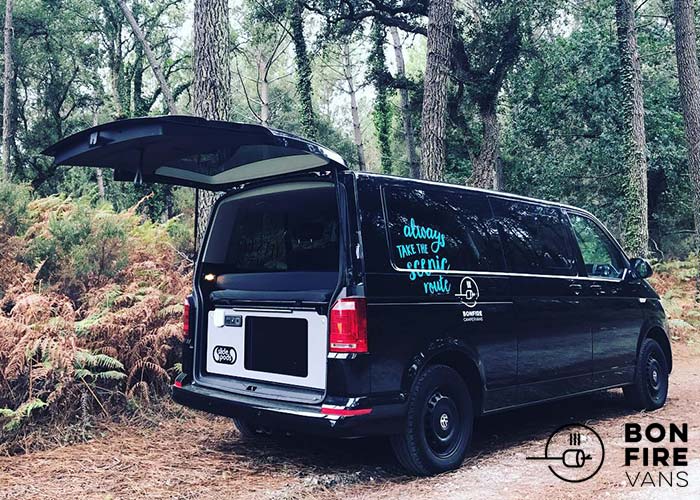 Sleeps two on a fold out bed. Comes with rear cooking pod including sink, double burner, cooking utensils, refrigerator plus camping chairs and table.
VW Campervans
Campervan with Tent
Same spec as our VW campervan, but this sleeps up to four. Two inside and two in a roof tent. Can be rented by just two people sleeping up top, keeping space inside.
With Roof Tent
VW Minibus
Seating up to 9 our long wheelbase minibuses are ideal for groups that need comfort and space. Features include, privacy glass, cruise control and bluetooth.
VW Minibuses
An Explorative Holiday in Europe
Europe is steeped in history and culture with beautiful chateaux, medieval towns and villages, Roman influence, rich farmlands and delicious regional foods and wines.
It is also the most fantastic continent for sports and adventure - mountains, forests, rolling hills, national parks, kilometres of beautiful coastline, flora and fauna.
What better way to see all of that, than by minibus or campervan rental in Europe?
Choose your own path, go your own way and find your own adventure.
We love having the freedom to explore, we know you do too.
Where Do You Want To Go?
Start your road trip from one of our locations in southern France and explore Europe.
Set Up Camp!
Southwest France
Bonfire Vans offers campervan hire in the Southwest of France, well equipped for you to take the European holiday of a lifetime.
We have campervans available to hire from Biarritz, on the Atlantic coast near Spain, or from Bordeaux further north, which is in a popular wine region.
Visit The Southwest
South of France
Bonfire Vans has campervans for hire in the South of France, for you to take the European holiday of a lifetime.
We hire campervans from the town of Avignon, a city in southeastern France's Provence region, or from Marseille, a port city on The French Riviera (or Côte d'Azur).
Visit South Of France
The French Alps
Bonfire Vans have VW campervans to hire in the French Alps - our standard style campervan sleeps 2 with a large fold out double bed. Great for couples or friends keen to travel together.
Annecy, our campervan pick up point, is a wonderful place to start your camping trip.
Visit The Alps
About Bonfire Vans
We are a family business based in the French Alps in the winter, and southwest France in the summer.
A British Dad (Simon), Dutch mother (Simone) and 3 children that were born and are raised in France.
In May every year we open Bonfire Vans - 4 campervan rental agencies in Europe, run by like minded friends. Each collection point is situated in a fantastic location in continental Europe - places that are perfect for you to begin your van adventures.
The Bonfire Van campervan style is our very own creation, which stems from the many camping trips Simone and I have made together over the years.
We turned our original minibus into the perfect campervan for our surf trips and travelled all over the west coast of Europe.
The VW campervan is the best all round vehicle for campervan rental in Europe. We know, we've lived it.