Campervan rental in Europe
We rent a range of VW vehicles from key location across the south of France.
Start your European road trip with us. Get the best vans for the best price from your chosen location in France.
Our standard VW campervans sleep 2 inside in a large fold out double bed. Or take our roof tent option and sleep 2 more on the roof making it a 4 person campervan.
We also hire VW minibuses and SUV's, so take your pick. Put some joy into car hire.
Where do you want to go?
Start your road trip from one of our locations in southern France and explore Europe.
How we roll ...
VW campervan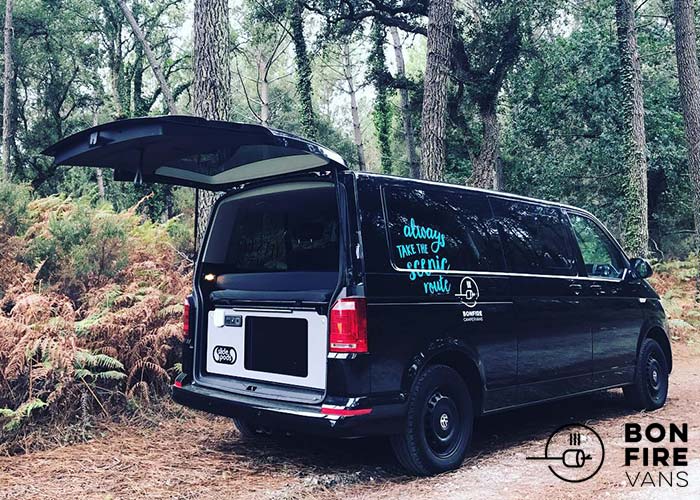 Sleeps two on a fold out bed. Comes with rear cooking pod including sink, double burner, cooking utensils, refrigerator plus camping chairs and table.
VW campervans
VW campervan with roof tent
Same spec as our VW campervan, but this sleeps up to four. Two inside and two in a roof tent. Can be rented by just two people sleeping up top, keeping space inside.
VW campervans with roof tent
VW minibus
Seating up to 9 our long wheelbase minibuses are ideal for groups that need comfort and space. Features include, privacy glass, cruise control and bluetooth.
VW minibuses
About us
We are a family business based in southern and west France. A British Dad, Dutch mother and 3 children born and raised in France. From May every year we open our 4 agencies run by similar minded friends situated in fantastic locations and perfect places for you to start your campervan adventures from.
Our campervans are our very own creation from starting our lives together. When we first met Simone and I turned our minibus into the perfect campervan for our surf trips. We travelled all over the west coast of Europe, we fell in love with so many places and found the VW van just the best all round vehicle for the job.
Now we have made what we consider a pro version design specifically for Bonfire Vans. Our minibus conversion to campervan includes an amazing rear kitchen pod, fold out double bed, refrigerator, storage and all the camping gear you need for your trip.