Campervan Hire Annecy, France
Bonfire Vans have campervan hire available from Annecy - the perfect start to a campervan trip through the French Alps.
Annecy has a beautiful old town (Annecy-le-Vieux) which is built at the northern tip of a 14 kilometre lake, said to be the cleanest in France.
As you drive south towards the mountains, you will find an abundance of campsites along the lake side and in little villages close by.
Make sure you book the campsite if you are hiring a campervan in the summer; Annecy is incredibly popular.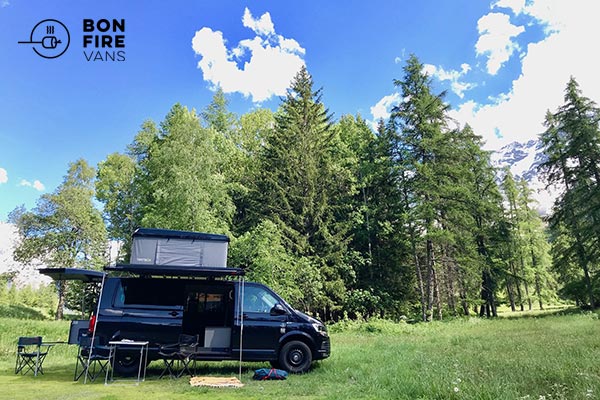 It is possible to cycle or walk by the side of the lake, take a swim, laze by the private lake beaches or hire boats, wakeboards or water skis.
About Annecy Town, France
The old town is truly stunning, taking you back in time with its picturesque streets and buildings - traditional Savoy architecture with classical Genevan influences.
Known as the 'pearl' of the French Alps, Annecy has some breathtaking views - the town offers fantastic lake and mountain vistas.
There are ample green spaces that are perfect for picnics and relaxing afternoons in the sun.
Learn the city's fascinating history in the numerous museums and art galleries, and enjoy its handicraft heritage at one of the many local crafting workshops.
The magnificent castle - Château d'Annecy - is well worth a visit and up on the hill are some of the best outlook points.
Quick enquiry
Beyond Annecy
Once you've explored Annecy old town and the beautiful lake, you have the campervan freedom to travel on to enjoy the surrounding areas of outstanding natural beauty.
Driving south will take you towards the Tarentaise Valley - well known for ski resorts, but it is incredibly beautiful in the summer.
Once you have hired your campervan from Annecy, we recommend camping in the mountains.
There are plenty of mountainside campsites at good altitudes with views of the stunning French Alps famed for Alpine flowers, cows and cheese making.
A Campervan Trip to Italy
When you hire a campervan in Annecy, it is well within your reach to drive over the mountains, and down into the Aosta Valley in Italy.
It is a stunning drive - up over the Col du Petit Saint Bernard into La Thuile. Well worth a visit and a fabulous bowl of pasta or a pizza!
You'll notice the difference in culture when you arrive in Italy, even though the two countries are so close.
Why not also check out Chambéry, Grenoble or Lyon while you're in the area?
Getting to Annecy and Transfer Details
Bonfire Vans can deliver your hired campervan to you either in Annecy or at a nearby train station. Gare d'Annecy is the main train station and there is also a great bus service into Annecy.
Geneva Airport is probably the best international airport to fly to in the summer, then get the train to Annecy (or a transfer with our sister company Mountain Rescue).
Useful Information About Annecy
In and Around Annecy in France
Annecy Agency and Transfers
If you are starting your holidays from Annecy we are happy to transfer you to and from our agency free of charge to collect your van.
If you need collection/drop off from airports at Chambéry, Lyon, Grenoble or Geneva we can also do this for a small fee.
Please note this offer is inside office hours 08:00-18:00.
Agency Address
5 Le Croix Bozon, Peisey-Nancroix, 73210, France
Telephone: 0033 (0)6 34 65 11 99
Email: info@bonfirevans.com