VW Campervan Hire Bordeaux
VW campervan hire Bordeaux is easy with Bonfire Vans who pick you up from your Bordeaux destination - be it airport or train station.
This part of Southwest France is a fantastic starting point for a camping trip, whether you are coming with friends, as a couple or a family.
Check out our standard VW campervans which sleep 2 and our VW rooftop campervans - for that little bit of extra space or to sleep 4.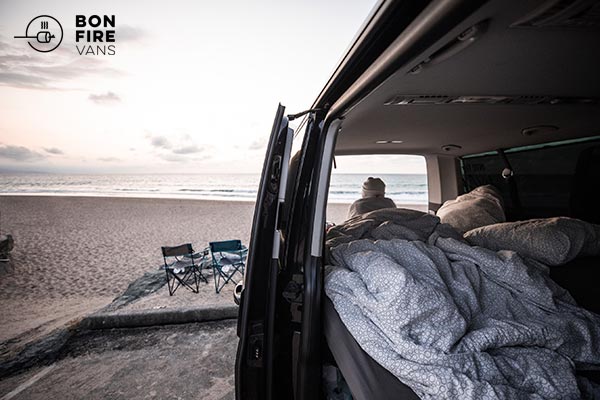 About Bordeaux, south of France
Bordeaux city is located close to the European Atlantic coast in the Southwest of France.
It's a port city on the Garonne River, so you'll find stunning bridges and gardens lining the quays.
The 18th-19th century buildings are charming and if you do go in to the city be sure to visit the Gothic Cathédrale Saint-André.
The Bordeaux area is most famous for wine production, and the city itself is the hub. You'll soon be wine tasting in one of the many quality caves or enjoying your Bordeaux wine at one of the quality French restaurants.
Cycling in Bordeaux
The Bordeaux area is well known for cycling and can be a tranquille (and healthy) way to see the sights.
Bonfire Vans provide bike rental from the Bordeaux base as well as a bike rack for the campervan itself. Both adults and children can be accommodated.
Quick enquiry
The Bordeaux Region
Once you've enjoyed Bordeaux city, hop back in your VW campervan and set off on the roads of France. This whole area is known for its wine growing and production, so you are sure to pass vineyards and find plenty of wine rooms.
Heading east will take you to Bergerac, a charming medieval town on the river Dordogne.
Going south, you'll find another popular area - the Médoc region. This beautiful area is situated on the left bank of the Gironde estuary.
North will take you to Cognac country. Why not stop off at Saint-Émilion, in the heart of the country of Libournais, a region of wine hills?
Drive towards the coast and you'll find Royan, Rochefort and the bustling town of La Rochelle, all highly recommended by the Bonfire Vans team.
Beach Life and Camping in Bordeaux
If you love the beach life - go straight across to the beautiful west coast of France to catch some rays at beach resorts such as Lacanau, Carcans Plage or Biscarrosse.
There are lots of great camping spots in this area, and plenty of surf breaks.
Another favourite with campers is Arcachone Bay - an oyster harvesting area situated on the Bassin d'Arcachon.
The town has four quarters each named after the seasons. 'Winter' is a historical district. There's 'Summer Town', the lively seafront part. 'Autumn' houses the harbour and fish market. Then 'Spring' has a large beach and bustling promenades.
Don't miss Dune du Pilat - Europe's tallest sand dune nestled between the Atlantic Ocean and a pine forest. If you're not sure what to do once you get there, just try running down it really fast.
There are 5 campsites very near Dune du Pilat and it's a magical place to spend a few days.
For more information about campervan hire and planning the perfect camping trip around the Bordeaux area, get in touch.
Getting to Bordeaux and Transfer Details
Bonfire Vans can deliver your hired VW campervan to you - either at the Bordeaux–Mérignac Airport or at a nearby train station. Gare de Bordeaux-Saint-Jean is the main train station at Bordeaux.
The Bordeaux–Mérignac Airport receives flights from all over the world.
If you are looking to save some money we can pick you up and bring you to our agency office in Frontenac, a short ride out of Bordeaux. We hand over your hired VW campervan there.
If you'd like to be further south of France, visit our Biarritz campervan hire point.
Useful Information About Bordeaux
In and Around Bordeaux in France
Bordeaux Agency and Transfers
If you are starting your holidays from the Bordeaux area we are happy to transfer you from local train stations free of charge or from Bordeaux–Mérignac Airport or Bergerac Dordogne Périgord Airport for a small fee.
Please note this offer is inside office hours 08:00-18:00.
Agency Address
Lieu-dit Medou logement 6, Pellegrue, 33790
Telephone: 0033 (0)6 34 65 11 99
Email: info@bonfirevans.com