Campervan Hire in The French Alps
Bonfire Vans have VW campervans to hire in the French Alps - our standard style campervan sleeps 2 with a large fold out double bed. Great for couples or friends keen to travel together.
Our rooftop campervan sleeps 4, so are perfect for a family holiday in the French Alps.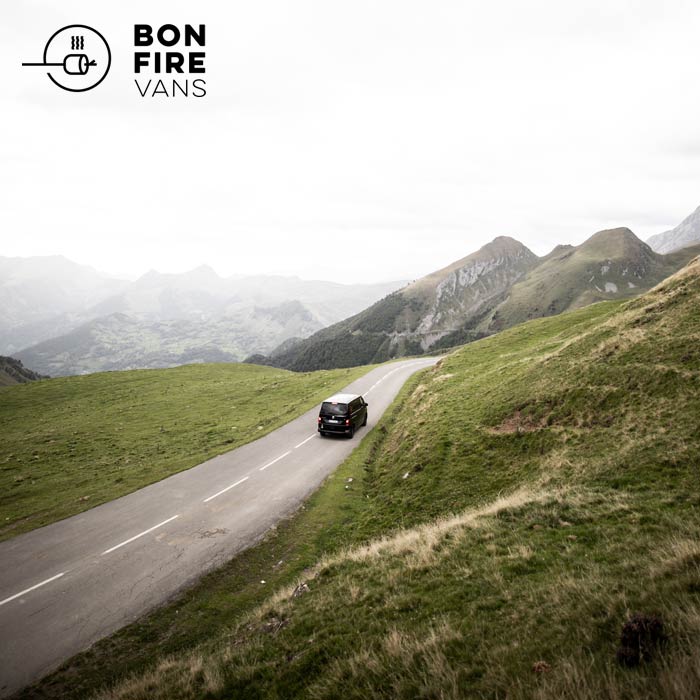 Where will you go camping in the French Alps?
Annecy, our campervan pick up point, is a wonderful place to start your camping trip. If you've never heard of Annecy, read on.
The old town of Annecy is built at the northern end of a beautiful, clean, 14 kilometre lake. Looking across the lake you are able to see the foothills of the French Alps, which is the way you will head, towards the mountains.
Now imagine a beautiful sunny day, as you drive in your campervan by the side of the glistening, blue lake full of boats and water skiers. The music on and you have not a care in the world. Looking up, you see seemingly tiny flecks of snow and glaciers on the mountain peaks.
The Alps is vast, so you have a lot of choice. Would you like to find a tranquil mountain village dotted with cows in the Alpine fields and traditional chalets, where you can take quiet hikes or long road cycles?
Or maybe you prefer an action packed holiday in a mountain bike resort, with fun slides, crazy inflatable playgrounds, bars and restaurants?
The Bonfire Vans team have lived in the Savoie region for a number of years. We know the area well and will answer all the questions we can. Here are a few stops that we know of, but make sure you check our Annecy page for more on Annecy itself.
Bozel, Savoie
Bozel in Savoie is a village located at 850 metre altitude and is wonderful in the summer with a small swimming lake and endless hikes all around.
The Bozel campsite is small and friendly and just 300 metres away from the lake, although they also have a swimming pool if you prefer.
Tignes, Le Lac
We can personally recommend the resort of Tignes if you are looking for some summer mountain sports, some lively bars and restaurants or things to do with children.
The main resort on the edge of Le Lac sits at an altitude of 2100m above sea level.
Here there is an abundance of things to do - the mountain bike park, access to the chair lift for pedestrians, archery, crazy airbag in the lake, trampoline, hot jumping and pedal boat.
Quick enquiry
Cycling in the French Alps
Road cycling is extremely popular in the French Alps, and the Savoie region very much so because of its many 'Cols' which are mountain pass points.
You have to be fit to do them or have a certain mindset, but popular cols in the Savoie region are: the Col de l'Iseran, the Col du Galibier and the Col de la Madeleine.
The town of Bourg-Saint-Maurice is a very good spot to access all these beautiful cycle rides, and you can rent road cycles here if you haven't brought your own.
Chamonix
From Annecy, you can access the famous mountain town of Chamonix in 1 hour and 15 minutes.
Many of Chamonix's ski lifts are open during the summer to give access to the high mountains. Enjoy the views on a mountain bike or on one of the many well-indicated hikes and walks.
Take the cable car from Chamonix to The Aiguille du Midi, a mountain from which you can see and feel very close to the famous Mont Blanc, the highest mountain in the Alps.
A Camping Holiday in the French Alps
These are only a few of the very many things you can do in the French Alps in summer time. There is so much to choose from, and the added bonus of a lovely weather system.
During June and July it is mostly sunshine, however as the summer turns to autumn we tend to get a lot of flash thunderstorms at the end of the day. Always keep an eye on the weather when you are in the mountains.
Camping in the French Alps is just wonderful - it is legal to wild camp, or free camp, if you are brave enough and there are plenty of spaces that you are sure to discover on your travels.
You can drive over the mountains and down into Italy within a few hours, which is a fabulous drive during which you can see across the beautiful Alps.
In and Around The French Alps
French Alps Agency and Transfers
If you are starting your holidays from Annecy we are happy to transfer you to and from our agency free of charge to collect your van.
If you need collection/drop off from airports at Chambéry, Lyon, Grenoble or Geneva we can also do this for a small fee.
Please note this offer is inside office hours 08:00-18:00.
Agency Address
5 Le Croix Bozon, Peisey-Nancroix, 73210, France
Telephone: 0033 (0)6 34 65 11 99
Email: info@bonfirevans.com