Campervan Hire Southwest of France
Bonfire Vans offers campervan hire in the Southwest of France, well equipped for you to take the European holiday of a lifetime.
We have campervans available to hire from Biarritz, on the Atlantic coast near Spain, or from Bordeaux further north, which is in a popular wine region.
The southwest of France covers the areas around the rivers Dordogne and Garonne and anything south, including the French (Northern) Basque Country and some of the Pyrénées mountain range - stretching throughout the south.
Officially the southwest region claims areas closer to the Atlantic than to the Mediterranean, and so the city of Toulouse, just two and a half hours from Bordeaux is also included.
We think the southwest of France is one of the best areas in France for camping and exploring. It is not as busy as the Mediterranean nor as expensive.
Let us take you on a journey!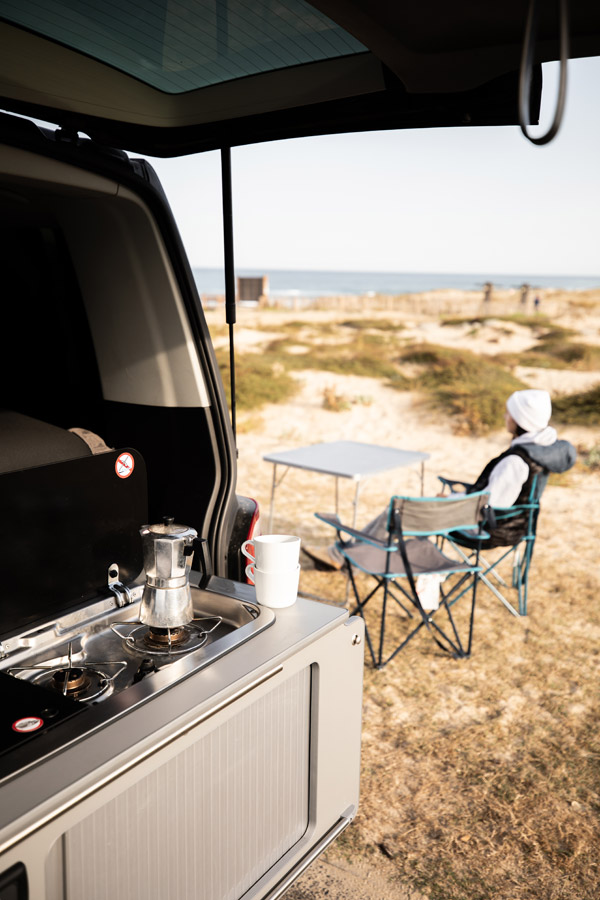 Where To Go Camping In Southwest France
Biarittz
The surf scene on the west coast makes for a very laid back beach feel. If you like the sound of this choose to rent a campervan in Biarritz from where you can even drive to Spain or Portugal.
Bordeaux
Cruise inland to find traditional French historic towns, villages, vineyards and rolling lavender fields. If you'd rather start here, choose to rent a campervan in Bordeaux.
We think the southwest of offers the best of both worlds and it's entirely possible to do both of the above areas.
Quick enquiry
The Atlantic Coast
The Bonfire Vans team just love this west coast of France because we love to surf and this is the home of France's surf scene - and there is amazing surf, we know.
For the last 10 years we've spent each summer in the southwest of France, taking our surfboards and our three children. So we know it well and we are happy to answer questions.
There are never ending sandy beaches, blue seas and spectacular coastal scenery. In the summer the weather is almost guaranteed to be sunshine.
Home to some truly wonderful cities including Bayonne, Pau and Biarritz this part of the world has culture and a surf heritage.
We recommend spending a day in Biarritz (at least). If you've never surfed, this is the place to try. There are surf schools all over the area, but we have put some we highly recommend on our Biarritz page.
The Bordeaux Wine Region
Bordeaux is the capital of the Gironde department and sits on the banks of the Garonne river - which is an impressive 647 km long, running from the Spanish Pyrenees to the Atlantic coast.
It is a gateway to the other well known French wine regions of this area - Dordogne and Lot-et-Garonne, which you could explore just by following one of the two rivers - Dordogne and Garonne.
The grape varieties in Bordeaux are Cabernet Sauvignon, Merlot, Cabernet Franc, Malbec, Petit Verdot, Sauvignon blanc, Sémillon and Muscadelle.
Known in France as the Aquitaine Region, the area is stunning with chateaux, vineyards and rolling hills. You'll find many guided wine tours in the area.
There are too many towns to visit, all with fantastic restaurants and wine bars. To name a few: Périgueux, Bergerac, Sarlat-la-Canéda, Coulounieix-Chamiers, Boulazac and Trélissac.
The Landes region is on the Atlantic coastal side and is home to some of France's most famous beaches - some of them so long, they feel never ending.
Visit the coastal towns of Biscarrosse, Tarnos, Capbreton, Soustons, Mimizan and Hossegor.
Poitou-Charentes Region
The newly named region of Nouvelle-Aquitaine, now encompasses the region formerly known as Poitou-Charentes, north of Bordeaux.
A wonderful area with beautiful medieval buildings and history dating back to Roman times. We highly recommend visiting the towns of Poitiers (2.5 hours north of Bordeaux), Angoulême, Niort and Cognac.
This area home to Cognac, a high-quality brandy, only distilled in Cognac in western France.
The little town of Jarnac is known as the cradle of Cognac - walk along the river purchasing some fine local versions.
There are lovely coastal towns such as La Rochelle, Royan and Rochefort sitting just inland of Port-des-Barques. Do check out the harbour at La Rochelle.
The Poitou-Charentes region also contains two low lying islands - Ile d'Oleron and Ile de Ré, both with stunning beaches to spend a day. Of course, it is possible to camp on the islands.
Toulouse and the Pyrénées
The capital of the Midi-Pyrénées region is Toulouse, a vibrant city in the middle of the west and east coasts.
If you take a road trip from the Atlantic coast to the Mediterranean it's the perfect stop off point.
Other well known cities include Lourdes, famous for being part of the Santiago de Compostela pilgrimage route.
This area of France has an abundance of attractions both natural or architectural. The mountains themselves of course and medieval towns and heritage sites. Visit Albi, Tarbes, Castres, Rodez or Auch.
One of our favourite things to do is go to the wonderful city of Pau check out the Chateau de Pau, go for a walk around the lavish gardens then head over to La Fiancée du Désert for some Lebanese nibbles.
What's Stopping You?
What's stopping you from hiring one of our campervans in the Southwest of France? We have standard campervans that sleep two, or roof top campervans that can sleep four.
If you prefer a hotel, don't worry - we have minibus or van hire in both areas, so you can include the whole family PLUS all your kit.
Useful Information About the SouthWest of France
Cool Campsites of the Southwest
La Parenthèse des Ormes
Enjoy a cool laid back camping vibe, wooden glad swimming pool, hammocks and chillaxing tunes. Great facilities, good for kids and glamping options if desired.
Panorama du Pyla
Have you guessed it? Yes, a campsite right next to the biggest pile of sand in Europe Dune du Pyla. It gets busy here but it's a fantastic location and there's plenty of beach to go around. Good clean campsite with restaurant, 2 pools a beauty centre and bouncy castle for the kids.
Camping Pré Fixe
Located in the village of Commings in a very historical part of France this tranquil camping location offers a very laid back vibe. There is a heated swimming pool, restaurant bosting fresh local dishes, tennis courts and spacious camp spots.
Camping Domaine des Mathevies
Transformed into a beautiful environmentally aware campsite by owners Natalie and Patrick. The Domaine des Mathevies has 40 pitches many surrounded by fruit trees and all with electric available to plug in your camper. They also have gites and chalets to rent and there are lots of activities to keep the family happy.
Huttopia Cote Sauvage
Situated on the island of Ile de Ré in the Poitou-Charentes the Huttopia camp site blends into the landscape nestled right next to the sandy dunes. It's a big campsite really only 20 meters or so from the sea. Its very busy during peak season but that's because its such a nice spot to let the kids run free and enjoy the environment. The campsite has good facilities, well kept and there are 100 pitches available.
Handy Links for Camping in the Southwest
Cool Camping
Great camp site resource for the cool.
Park4night
For sharing cool places to park up, download the app.
Camping Car
A network of cheap camping spots for campervans.
Camping France
Book campsites all over France.
Campsited
Camping in France blog and bookings.
Places to Visit North to South
Ile de Ré
Lovely low lying island.
La Rochelle
Historical harbour town.
Cognac
The home of the popular French tipple.
Bergerac
Home of fine wines and castles.
Bordeaux
Arts and culture in a splendid city near the sea.
Arcachon
Home of the largest sand dune in Europe.
Toulouse
Vibrant capital of the Occitanie.
Biarritz
The birthplace of Surf in Europe
Pau
A small charming city nestled alongside the Pyrénées.
In and Around Southwest France
South west France Agency and Transfers
If you are starting your holidays from this part of the world then you can either come to our Soorts-Hossegor agency or we can bring the vehicle to you at Biarritz airport if you are flying in there.
Please note this offer is inside office hours 08:00-18:00.
Agency Address
49 Avenue des Couteliers, 40150 Soorts-Hossegor
Telephone: 0033 (0)6 34 65 11 99
Email: info@bonfirevans.com