Campervan Rental Avignon, France
Bonfire Vans offer campervan rental in Avignon which is in the well known Provence region in the south of France, bordering Italy and the Mediterranean Sea.
There is an international airport here, the Avignon-Caumont which is often referred to as 'Avignon-Provence Airport', from which we can pick you up - or come by train to Gare d'Avignon TGV directly from Paris.
Campervan rental from our Provence branch means that you start your holidays in the stunning wooded hills of the Provence area.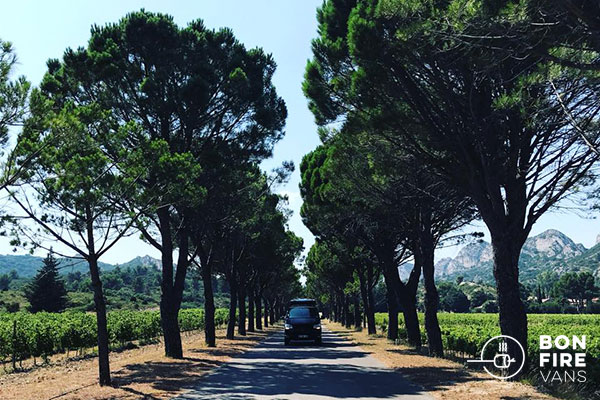 About Avignon
Avignon itself is well worth visiting - it is the city to which Popes fled the corruption of Rome in the 14th century. They built a palace named 'Le Palais des Papes,' or the Palace of Popes which dominates the city centre and is surrounded by medieval stone ramparts.
Set on the Rhône River, Avignon has an acclaimed bridge - sung about in a traditional French rhyme - Sur le pont d'Avignon. There are lots of lovely restaurants to choose from.
Where to go from Avignon
From Avignon it is very easy to get straight to the Mediterranean coast, just half an hour away.
Or you could head north to the Ardèche, named after the Ardèche River - a river flowing slowly through canyons, on which you can canoe.
Camping in the Ardeche is great for families.
Quick enquiry
Our agency office is in Eygalières, so if you picked up your campervan rental you would already be on the outskirts of the mountainous Alpilles Regional Nature Park, an incredible area for hiking, biking and horse riding.
Eygalières is close to Saint-Rémy-de-Provence, an old and adorable town where you'll find all the charm of a typical Provencal way of life.
Useful Information About Avignon
About the Provence Region
One of the most popular holiday regions in France, Provence-Alpes-Côte d'Azur has stunning lavender fields all the way through the Luberon to the spectacular Mediterranean coast, known as the French Riviera.
The weather is typically sunny and dry during the summer months and travelling by campervan is definitely the best way to see this stunning part of France.
Known for sumptuous cuisine, Provence is a wonderful area to visit with family and friends. So why not hire two of our campervans? Take a look at our campervan rentals - the standard campervan sleeps two and our rooftop campervan that sleeps four.
Your trip to Provence is worth planning carefully as there is a lot to see and do.
Some of the favourite attractions from the Bonfire Van team are: the Basilique Notre-Dame de la Garde, the National Park in Marseille, Carrières de Lumières in Les-Baux-de-Provence, Castle Hill, the old town of Nice and the picture-postcard town of Saint-Paul de Vence.
If you're happier cruising at leisure, you'll find wonderful things to do in every direction - think wine tours, local cuisines, boating and hiking mountains.
Or take the more relaxed approach by seeping up the rich culture and history, or just relax on the beach.
In and Around Avignon in France
Avignon Agency and Transfers
If you are looking to start your adventure from the Provence area we are happy to transfer you free of charge from Avignon to our agency, to get you on your way.
We can also collect you from Aix-en-Provence (for a small fee) or Marseille.
Please note this offer is inside office hours 08:00-18:00.
Agency Address
170 Chemin du Tourdre, Eygalières, 13810 France
Telephone: 0033 (0)6 34 65 11 99
Email: info@bonfirevans.com
Getting to Avignon and Transfer Details
Bonfire Vans can deliver your hired campervan to you either at the Avignon-Caumont Airport or at a nearby train station. Gare d'Avignon TGV is the main train station at Avignon.
The Avignon-Caumont Airport is international, but if you can't find a direct flight then Paris is only 2 hours 45 minutes by train.
We take you to Eygalières, where you will be introduced to your VW campervan rental. You can then begin your camping holiday.
If you are looking to save some money we can pick you up and bring you to our agency office in Eygalières, a short ride from Avignon-Caumont Airport. We hand over your hired campervan there.