Minibus and Van Hire Biarritz Airport
Bonfire Vans provide 9 seater minibus and van hire at Biarritz airport.
We know that a larger vehicle is way more practical than car rental when you want to explore the southwest of France, Spain, Italy or Portugal.
The minibuses are seriously comfortable 9 seater Volkswagen Caravelles, which are perfect vehicles for carrying groups of people with lots of kit.
Perfect transportation for families, for the active among us like surfers, cyclists and sports teams as well as for professionals like film crews and photographers.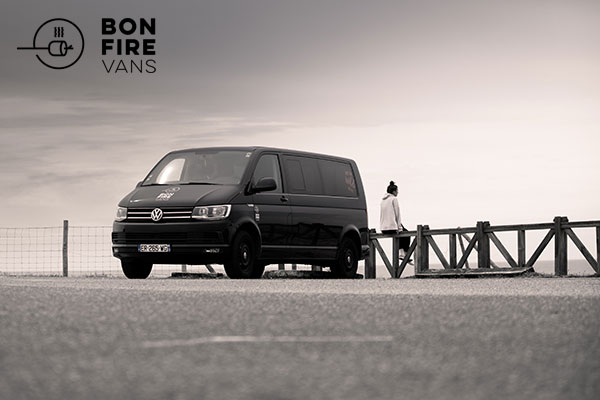 We have roof bars, bike racks and roof boxes to rent, so your equipment can be stored safely, outside of the vehicle and you have more room inside.
The VW minibus/van is very easy to drive and has front and rear parking sensors to ensure complete parking ease.
9 Seater Bus Hire Biarritz
Our 9 seat buses for hire at Biarritz are VW Caravelle Comfortline, all under 3 years old, many of them are even newer.
The minibuses are long wheel base, 9 seater vehicles which fit 1 driver plus 8 passengers. There is loads of space for luggage or kit.
The minivans are super comfortable and have privacy glass, cruise control and bluetooth connectivity.
6 Seater Minivan Hire Biarritz
The Bonfire Vans' 6 seater minivans are short wheelbase and drive up to 6 people -1 driver plus 5 passengers. They have privacy glass, leather seats, a DSG gearbox and multi-function seating.
7 Seater SUV (Sport Utility Vehicle) for Hire
The 7 seater SUV is a Tiguan Allspace R line, which has leather seats, alloy wheels and a panoramic sunroof. They are 2.0 Litre TDI 190 PS engine with DSG gearbox.
This SUV for hire at Biarritz Airport will see you cruising the west of France in style.
About Biarritz
The historic town of Biarritz, France is touristy during the summer months. It is a highly rated surf destination with fabulous beaches and many surf shops.
It's an elegant place full of culture, bars and restaurants that supply fresh seafood, pizzas and local Basque Country dishes.
We recommend you find yourself a nice spot near the sea front - it's a super cool place to hang out and soak up the cosmopolitan atmos (atmosphere but cooler).
If you love the sea and beautiful beaches just follow the coast once you receive your van hire from Biarritz.
Heading north you will soon descend on Landes de Gascogne Regional Natural Park, a protected area of pine forest, wetland and oceanic coastline. Here you will find small hotels and cabins to spend the night.
Quick enquiry
Road trip through the Pyrenees mountains
After hiring your van from Bonfire Vans at Biarritz Airport, drive two hours east and you will hit the European mountain range called the Pyrenees.
This area is just stunning in summer - great for hikers and serious road bikers. Or just mooch around and find a traditional chalet in one of the many mountain villages or towns.
Road trip to Spain and Portugal from Biarritz
Biarritz town is only 22km away from the Spanish border on the French side. So it is easy to make your way down the coastline to explore more of Europe.
If you are feeling adventurous, an 8/9 hour drive will get you to Porto. Porto is a famous town in Portugal known for Port production - a fortified wine available as red or white. Porto has a fabulous vibe, great restaurants and Port tasting of course.
Top tip: Spain and Portugal tend to be cheaper when it comes to food and hotels.
Getting to Biarritz and van hire transfer details
Bonfire Vans can deliver your hire van to Biarritz Airport, (also known as Biarritz Pays Basque Airport) or at a nearby train station.
Gare de Biarritz is the main train station at Biarritz.
If you'd like to travel a little further north than the Basque Country, visit Van and Minibus Hire Bordeaux Airport.
About the vans
The latest T6 Caravelle.
2.0L TDI Blue Motion 150 PSI.
Drives 8.
Driver alert system.
Cruise control.
Air-conditioning.
Bluetooth technology & USB connection.
Black out blinds.
Optional extras
Sleeping bags and pillows.
European GPS.
Baby seat.
Bike rack.
Roof bars.
Roof box.
On board Wi-Fi.
Awning.
12V to 220V converter.
Airport transfer.
End of stay clean.
Useful Information About Biarritz Airport
Hotels Around Biarritz
Le Gamaritz
Right on the beach close to the cove of Port Vieux Beach is Le Gamaritz a lovely family friendly hotel with en-suit rooms and quirky décor.
Mercure Biarritz Centre Plaza
An Art Déco feel going on here and apparently, a bit of a hot spot for the rich and famous. The hotel is located in the centre of town with amazing views of the ocean.
Hotel Florida
A beachfront hotel that's enjoys stunning views and has its own restaurant offering Basque inspired dishes. The Florida is located above the harbour in the centre of town.
Stay Close to Biarritz
Biarritz Paradise Surf Camps
If you fancy learning to surf this holiday, why not book yourself in with the Surf Camp Biarritz! They are set up to offer you accommodation and surf lessons in the Biarritz area. Accommodation ranges from Tents to 4 start accommodation.
Natural Surf Lodge
Up the road in Hossegor the Natural Surf Lodge offers and interesting mix of surf lessons and other activities such as Cook, English lessons, yoga and even pole dancing.
Koala Surf House
An Eco aware surf house situated in Hossegor with a super happy surfing vibe. Meet likeminded people, rent surfboards and settle in for a super chilled holiday location.
Activities in Biarritz
Surf Training
You can start surfing as young as 5 years old so Surf Lessons have to be top of the list, if your fairly fit and up for a challenge then book yourself a private surf lesson. Surf training are a professional outfit that also have accommodation and organise group events.
Electric bike tour Biarritz to St Jean de Luz
Electric bikes are all the rage and this is the perfect way to discover one of the most beautiful stretches of the Basque coastline. The tour is around 4 hours and includes a history of the area whist whistling along on your comfortable e bike.
Private walking tour
A 2 hour guided tour around the coastline of Biarritz, take in the historic landmarks and not miss a trick about the local area.
In and Around Biarritz Airport
Biarritz Agency and Transfers
If you are starting your holidays from this part of the world then we can bring the campervam to you at Biarritz Airport or a nearby train station.
Please note this offer is inside office hours 08:00-18:00.
Collection Address
Biarritz Pays Basque Airport
Telephone: 0033 (0)6 34 65 11 99
Email: info@bonfirevans.com