Van and Minibus Hire Bordeaux Airport
Bonfire Vans provides VW van and minibus hire from Bordeaux Airport and the surrounding area. We meet you at the airport or train station at your arrival time. For you there is no waiting or queuing. Just grab the keys and go.
Hire either one of our 9 seater VW Caravelle minibuses, hire the van with seats taken out to use the space in the back or hire a 7 seater SUV (sport utility vehicle).
Why Choose Us for Minibus Hire at Bordeaux Airport?
A better minibus, van or SUV for the same price as the larger rental companies.
Bonfire Vans meet you at Bordeaux Airport arrivals or a train station in the area. We hand you the keys in person.
We are a friendly, family operation and we know France very well.
Our fleet of VW minibuses are very new vehicles. We use them during the winter in our ski transfer company in the French Alps.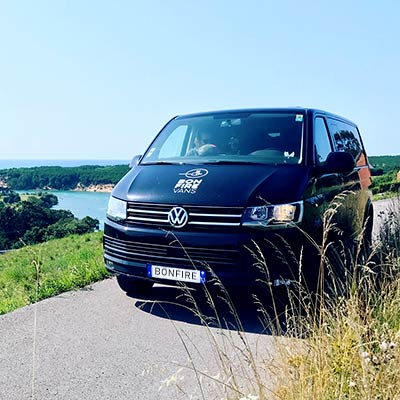 9 Seater Bus Hire Bordeaux
Our 9 seat buses for hire at Bordeaux are VW Caravelle Comfortline, all under 3 years old, many of them are even newer.
The minibuses are long wheel base, 9 seater vehicles which fit 1 driver plus 8 passengers. There is loads of space for luggage or kit.
The minivans are super comfortable and have privacy glass, cruise control and bluetooth connectivity.
6 Seater Minivan Hire Bordeaux
The Bonfire Vans' 6 seater minivans are short wheelbase and drive up to 6 people -1 driver plus 5 passengers. They have privacy glass, leather seats, a DSG gearbox and multi-function seating.
7 Seater SUV (Sport Utility Vehicle) for Hire
The 7 seater SUV is a Tiguan Allspace R line, which has leather seats, alloy wheels and a panoramic sunroof. They are 2.0 Litre TDI 190 PS engine with DSG gearbox.
This SUV for hire at Bordeaux Airport will see you cruising the southwest of France in style.
Optional Extras for Hire
Don't forget we also hire out roof racks, lockable roof boxes and bike racks so you'll have the freedom you need if you have lots of gear or bikes of your own.
Bikes for adults and children are also available to hire at our Bordeaux depot, just let us know when you make your booking.
About Bordeaux, Southwest of France
Bordeaux city is located close to the European Atlantic coast in the Southwest of France. It's a port city on the Garonne River, so you'll find stunning bridges and gardens lining the quays.
The 18th-19th century buildings are charming and if you do go in to the city be sure to visit the Gothic Cathédrale Saint-André.
The Bordeaux area is most famous for wine production, and the city itself is the hub. You'll soon be wine tasting in one of the many quality caves or enjoying your Bordeaux wine at one of the quality French restaurants.
Quick enquiry
Renting a vehicle from us to see Bordeaux and the surrounding area gives you great flexibility to really see some of the best things about this part of France.
Here are a few of our favourite places to hang out near Bordeaux.
Van Hire for a Trip Around France - Saint-Émilion
From Bordeaux, once you've hired your van for a trip around the southwest of France, we recommend you head to Saint-Émilion in the heart of the Libournais region, an area of wine hills.
Saint-Emilion is a medieval city located at the crossroads of Bordeaux, Saintonge and Périgord.
This 12th century city is a wonderful place to spend a couple of days as there are lots of lovely places to stay and there are lots of wine tasting tours on offer.
If you are feeling active there are also cycling tours of the vineyards nearby stopping at wineries on route.
Van Trip Around France - Arachon Bay
An hour west of Bordeaux is Arachon Bay in the Atlantic Ocean on the southwest coast of France. This is the 'locals spot' where people from Bordeaux come to relax.
Famous for its oysters and its upscale resorts, but you can just hit the beautiful beach and feel the fine white sand between your toes.
Here you will see the Dune du Pilat, the tallest sand-dune in Europe at 109 metres, 2,700 metres long, 500 metres wide.
Van Trip Around France - Royan
Royan is a seaside town situated 1 and a half hours drive north of Bordeaux on the mouth of the Gironde estuary.
Here, there are some lovely beaches and the famous Notre-Dame de Royan - one impressive concrete structure, created in 1958, which dominates the Royan skyline.
Visit the sheltered Plage de la Grande Conche, famous for the cute blue and white striped tents that are available to hire on the beach.
Van Trip Around France - Meschers-sur-Gironde
The lovely town of Meschers-sur-Gironde is a fishing village between estuary and ocean on the Atlantic coast. See the troglodyte Grottes de Regulus caves, carved into the chalky rock.
This is a truly tranquil setting with sandy beaches and stunning rocky cliffs.
Van Trip Around France - Parc de la Coccinelle
Parc de la Coccinelle at Gujan-Mestras is about 40 minutes drive south west of Bordeaux.
It is a theme park aimed at children up to 12 years old. We love it because it is not too intense and an excellent place to treat the kids. There are water rides, fun activities and an animal farm.
Van Trip Around France - Lacanau, for surfers
Lacanau is one of Bordeaux's most popular surf spots and for good reason.
There are fantastic, never ending sandy beaches and a bustling seaside town.
Inland, you will find endless pine forests with bike trails and even a lake for sailing and windsurfing.
Van Trip Around France - Bergerac
Bergerac is located about 100 kilometres east of Bordeaux and it is a charming medieval market town, steeped in history.
The town itself has a bustling square with bars, restaurants and boutique shopping offering interesting local produce.
In Bergerac you will find lots of wine tasting opportunities and historical information about Bergerac's wine history.
Spend some time watching the world go by, and enjoying a long relaxing lunch à l'extérieur, as is traditional in France.
Then stroll along the banks of the Dordogne river. We highly recommend it.
Getting to Bordeaux and Transfer Details
Bonfire Vans can deliver your van or minibus hire to you either at the Bordeaux–Mérignac Airport or at a nearby train station. Gare de Bordeaux-Saint-Jean is the main train station at Bordeaux.
The Bordeaux–Mérignac Airport receives flights from all over the world.
If you are looking to save some money we can pick you up and bring you to our agency office in Frontenac, a short ride out of Bordeaux. We hand over your hired VW campervan there.
If you'd like to be further south of France, visit our Biarritz hire point.
About the Vans
Tigan, Multivan or T6 Caravelle.
Seats to 7, 8 or 9 passengers.
Driver alert system.
Cruise control.
Air-conditioning.
Bluetooth technology.
USB connections.
Optional Extras
European GPS.
Baby seats.
Booster seat.
Bike rack.
Roof bars.
Roof box.
Bike rental (Bordeaux only).
On-board Wi-Fi.
Table and chairs.
Useful Information About Bordeaux Airport
Hotels Around Bordeaux
Hôtel de Séze
First of our recommendation. Smart, stylish urban feel with 4 star luxury status. It's got impeccable service and offers fine dining, a spa and the all important boutique bedrooms.
Chateau Lafaurie-Peyraguey, Sauternes
Nestled in the vineyard of Sauternes the 13th Century chateau offers dramatic settings, fine wines and a gastronomic restaurant.
Seeko'o Hôtel Design
It's all about the cool designer setting and its works. This 4-star hotel is recognised as an integral part of the revival of architecture in modern Bordeaux. Dramatic rooms and stunning views of the Quays of Bordeaux from the bedrooms.
Novotel Bordeaux Lac
Situated in the suburbs of Bordeaux the Novotel Bordeaux Lac enjoys a relaxed atmosphere just outside the city centre. Good value and highly recommended if you want to be slightly out of the city.
Villa Reale, Bordeaux
Very well appointed self-catered apartments with views of the Place du Parliament. Its not cheap but if you want to stay in one of the hot spots of Bordeaux it's a lovely place to rest between hard core touristing.
Stay Close to Bordeaux
Camping du Bas Meygnaud
Situated in the Drone Valley this leafy campsite is the perfect place to spend a week in the Dordogne area. Rent one of their glamping set ups which includes Wooden chalets and Safari lodge tents.
Belair Le Camping
Glamping and camping in the north of Dordogne. This magical spot offers a relaxing atmosphere and lovely accommodation. Rent the Humble Abode, a 2 roomed cottage with your own little garden and BBQ. Stay in one of their 6 metre bell tents with all the trimmings. Electric, lighting, luxury double bed. Its all been thought out very well by owners Ben and Laura.
Arachon Nature Campsite
Situated in the heart of a 6 hectare pine forest this lovely campsite is the perfect location to get away from the hustle and bustle of Bordeaux. Check out its range of  chalets and accommodations to find what suits your family or group best. It's got great faculties all in a very tranquil environment.
Activities in Bordeaux
Bordeaux Bike Tour
Enjoy the sites of Bordeaux by bike, in the hands of your capable guide Jean Christophe. Very popular and good reviews on TripAdvisor.
Bordeaux Canoë
The only Canoe tours of Bordeaux. Embark on and adventure down the Garonne river and see the cities charms from a different perspective.
Croisiére Commentee Prestige
Ride on a post war yacht down the Luna river whilst enjoying fine beverages with friends.
Parcours Acrobatique en Hauteur Loirs et Aventures
Swinging through the trees on zip lines, ladders and wobbly wooden bridges. The kids love it and so do we. Just outside Bordeaux in Talence.
Golf Parc de la Presqu'ile d'Ambes
An excellent and well rated golf resort with something to challenge all levels. There is a mini golf course and restaurant. They also offer free introductory lessons and load of equipment.
In and Around Bordeaux in France
Bordeaux Agency and Transfers
If you are starting your holidays from the Bordeaux area we are happy to transfer you from local train stations free of charge or from Bordeaux–Mérignac Airport or Bergerac Dordogne Périgord Airport for a small fee.
Please note this offer is inside office hours 08:00-18:00.
Agency Address
18 Route de Sainte-Presentine, 33760, Frontenac
Telephone: 0033 (0)6 34 65 11 99
Email: info@bonfirevans.com